About Me
Copyright Text

Blog Archive


17 July 2010
What you will need
* Paint Shop Pro. I used PSPX but any version will do the job just fine.
* Tube of choice. I used the fantastic work of Legends Art which can be found
here
.
* Scrap kit of choice. I used the fabulous Spring is Sweet by CBJ and it can be found
here
.
* Font used - Adios Script Pro but you can use any font of choice.
* Mask of choice. I used dmsk0006.
Lets get started
1. Open all your elements you want to use in your tag and hold down the shift key + D to copy your elements and close the originals.
2. Open a new transparent image 500 x 500. Select a colour you would like to use for the background. I used CBJ_SIS_Paper 13. Select your Mask you want to use and apply it to your tag. I reduced the transparency to 50%
3. Place your element you want to use on the background layer and resize to fit the tag. I used CBJ_SIS_Leaves.
4. Next select your Rectangle Tool with the foreground set to a darker contrasting colour to the Background colour. I used #adc5ea for the foreground stroke width set to 3 with #e0eaff set for the background colour and draw out a rectangle to a size you are happy with.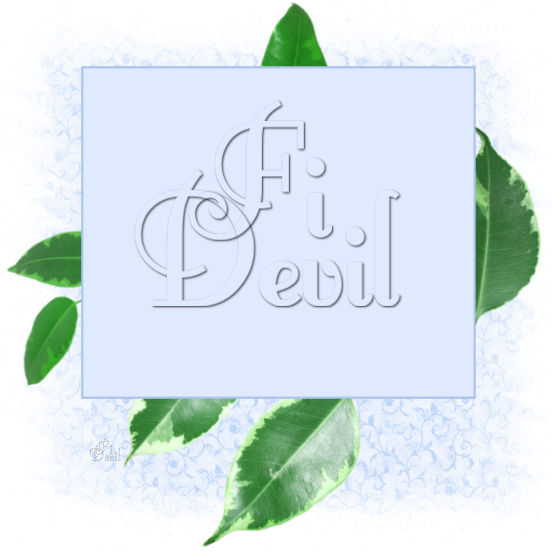 5. Now place your elements on your tag till you are satisfied with the way it looks.
6. Now place your tube on your tag adding a slight drop shadow to give it more of a deeper feel. I used Vertical 2 - Horizontal -2 with Opacity at 45 blur 2 black as the colour. Arange as you would like it.
Now add the © copyright information.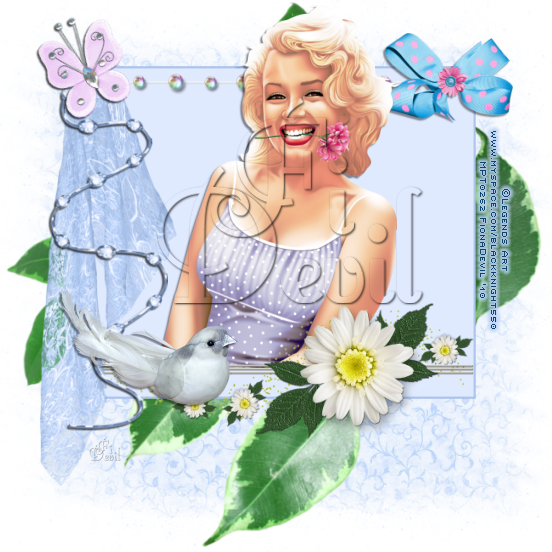 7. Add your name with your font of choice and save your tag as either a PNG or JPG.
You are now finished.


I hope you enjoyed doing my tutorial.
This tutorial was written on 17th July 2010.
This is my own work and not copied from any other tutorial.
Any resemblance to any other tutorial is purely coincidental.
©FionaDevil Tutorials